Key information from the past week
1. Poland: MPC's decision
The Monetary Policy Council (MPC) has yet again increased interest rates. This time, interest rates went up by 75 basis points, not reaching 100 basis points expected by the market. As a result, the reference rate currently stands at 5.25%. In the communication released after the meeting, the MPC indicated that many central banks are tightening monetary policy amid strong inflation growth, which in the coming quarters is expected to materially increase in Poland.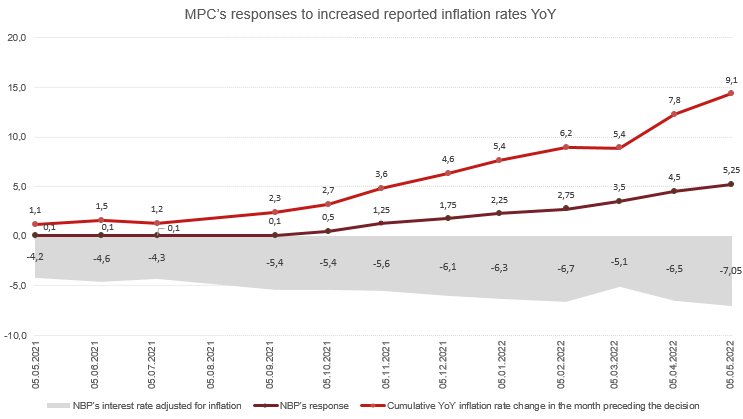 Source: GUS, NBP. Own compilation.
2. Euro area: Retail sales
In March, the seasonally adjusted volume of retail sales increased by 0.8% YoY in the euro area and by 1.7% in the entire European Union. As regards the MoM dynamics, the retail trade decreased by 0.4% and 0.2% respectively. This drop (versus February) recorded in the euro area in March mainly resulted from a 2.9% decrease in the sale of fuels and a 1.2% decline in the sale of non-food products. On the other hand, the sale of food increased. The sale of fuels and non-food products grew by 8.3% and 2.8% YoY respectively, while the volume of retail trade of food fell by 2.5% YoY.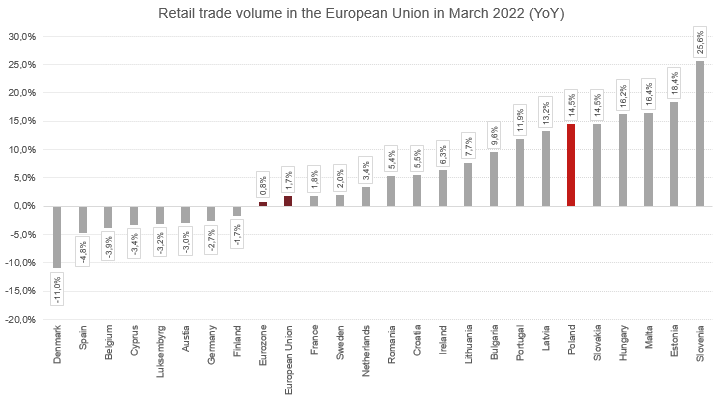 Source: Eurostat. Own compilation.
3. Euro area: Industrial production
Germany's industrial production in March 2022, compared to March 2021, fell by 3.5%. This drop was much higher than the expected decrease of 0.4%. The negative dynamics were recorded for new manufacturing orders, which dropped by 3.1% YoY (versus the expected fall of 0.7%). At the same time, February's figures were revised upwards from 2.9% to 4.3%. Compared to February, the volume of new manufacturing orders dropped by 4.7%. On the other hand, France's industrial production rose by 0.1% YoY (less than the expected increase of approx. 1.5%). Industrial production fell by 0.5% MoM, i.e. more than the expected drop of 0.2%. Similar situation was recorded in Spain, where industrial production increased by 0.1% YoY (versus the expected growth of 2.7%), and dropped by 1.8% MoM.
4. USA: Labour market
ADP readings projected further improvement in the U.S. labour market but the pace of this improvement may have slightly slowed down. The number of newly hired increased by 247,000; this figure is below the expected total of about 385,000 and also lower than March's figures revised upwards from 455,000 to 479,000. However, the non-farm private sector added 428,000 jobs in April (as many as in March after revision from 431,000), exceeding experts' expectations, while the labour force participation rate fell from 62.4% to 62.2% (versus the expected increase to 62.5%). As a result of the above index dynamics, the unemployment rate remained at 3.6%. Wage growth continued, reaching 5.5% YoY, which – accounting for inflation of 8% – means that real wages are actually falling.
5. USA: Interest rates
The Federal Open Market Committee (FOMC) voted to increase the federal funds rate by 50 basis points at its meeting held on May 3–4, 2022. The Committee cited a substantial decline in an unemployment rate as a result of robust job gains as its reasons. The FOMC's members see Russia's war on Ukraine and COVID-19-related lockdowns in China as key risks that could dampen the U.S. economic activity and increase inflation. Additionally, the FOMC will start reducing its balance sheet in June, initially by USD 47.5 billion per month, and then, after three months, by USD 95 billion per month. This will accelerate the tightening of the U.S. financial conditions which has been taking place since the first decision to reduce asset purchase.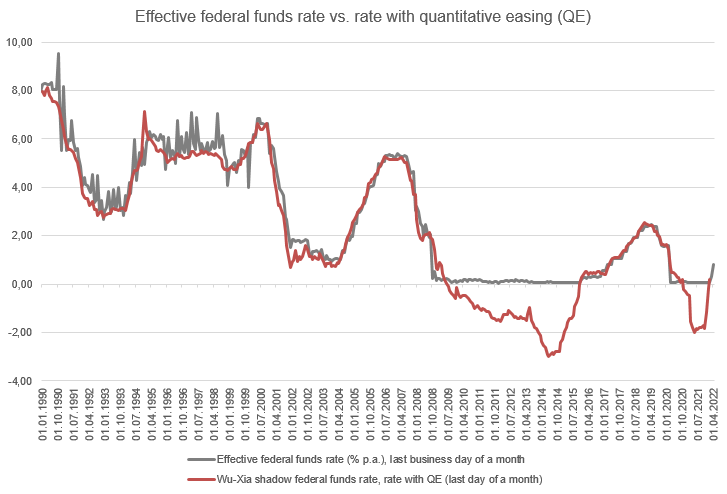 Source: Board of Governors of the Federal Reserve System, and Wu and Xia (2015). Own compilation.
6. PMI dla sektora usług
W Europie wskaźniki wyprzedzające dla sektora usług okazały się być w najważniejszych gospodarkach lepsze od oczekiwań, choć zagregowany poziom dla całej strefy euro osiągnął zgodną z oczekiwaniami wartość 57,7 pkt. Były to wartości wyższe niż w marcu 2022 r. W USA wskaźnik ISM Services spadł z 58,3 do 57,1. Dość dramatycznie wygląda natomiast sytuacja w Chinach, gdzie wartość tego wskaźnika spadła z 42 do 36,2, co obrazuje nastroje wynikające z rosnących w skalę "lockdownów" związanych z Covid-19.
Source: Bloomberg. Own compilation.
This week:
Poland: Inflation, trade balance, core inflation
Euro area: Inflation, industrial production
USA: CPI, PPI