Key information from the past week
1. Poland: Interest rates unchanged
At its first 2023 meeting, the Monetary Policy Council, as expected, decided to keep the reference rate of the National Bank of Poland (NBP) unchanged at 6.75%. In a communication published after the meeting, the Council has indicated that "the expected downturn surrounding the Polish economy and monetary policy tightening by major central banks will reduce the global inflation and prices of natural resources. The global economic downturn will also slow down Poland's economic growth. Under such conditions, previous significant tightening of the NBP's monetary policy will be conducive to reducing the inflation in Poland towards the inflation target set by the NBP. At the same time, given the magnitude and persistence of impact of the current inflation shocks, which are not governed by the Polish monetary policy, inflation will remain high in the short term and bringing it back to the NBP's inflation target will happen gradually. Strengthening the Polish zloty, which in the Council's opinion would be consistent with the foundation on which the Polish economy is based, would facilitate faster inflation reduction."
2. Poland: CPI inflation in December
As per the flash estimate released by Statistics Poland [GUS], the CPI in December 2022 averaged 16.6%, dropping by 0.9 p.p. versus the November data and by 0.8 p.p. versus the market consensus. This was caused by a lower-than-expected price increase MoM (0.2%), which was affected by a drop in prices (MoM) of energy carriers and fuels for private means of transport. Food prices increased. In January, the situation may slightly reverse as a result of the expiry of various anti-inflation shields and introduction of new tariffs. Given that the NBP has not increased interest rates and that global inflation is slowing, real interest rates should soon increase as a result of the decreasing inflation. However, considering a number of effects, the inflation rate may in the coming months be characterised by high volatility and deviations from the market consensus.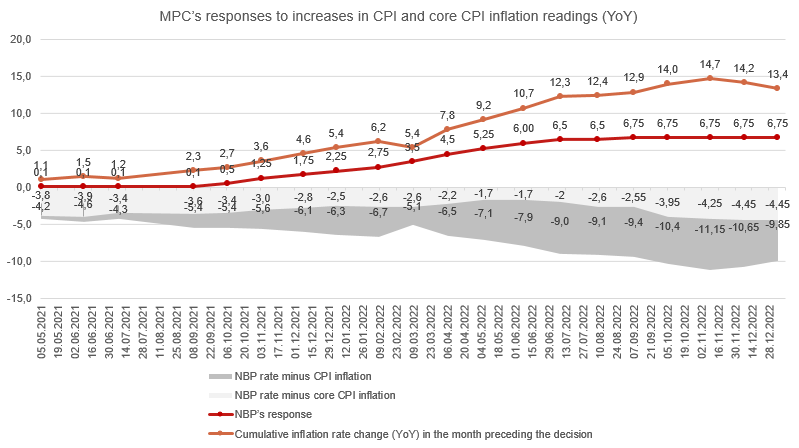 Source: GUS. NBP. Own compilation.
3. Eurozone: PPI
According to estimates released by Eurostat, in November 2022, industrial producer prices fell in the eurozone and the EU by 0.9% versus October 2022. Compared to November 2021, industrial producer prices were up by 27.1% in the eurozone and by 27.4% in the EU, exceeding the market consensus. In that period, industrial producer prices in the eurozone increased by 55.7% in the energy sector, by 16.0% for non-durable consumer goods, by 15.3% for intermediate goods, by 9.4% for durable consumer goods, and by 7.6% for capital goods. Similar proportions were recorded throughout the EU. Excluding energy prices, industrial producer prices increased further, reaching 13.1% in the eurozone and 13.6% in the EU. The highest annual increases in industrial producer prices were recorded in Hungary (+63.5%), Latvia (+51.2%) and Romania (+44.8%). The only decrease was recorded in Ireland (-13.0%). In Poland, the increase by 28.3% was similar to figures recorded throughout the EU.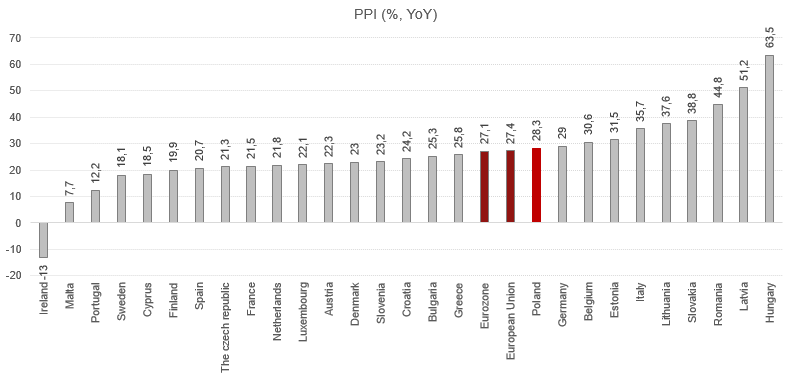 Source: Eurostat. Own compilation.
4. Eurozone: CPI inflation
First flash estimates of the CPI inflation for December 2022 are being released for the biggest eurozone economies, with the one for Germany being the most important. As per the locally applied methodology, CPI inflation averaged 8.6%. It was significantly lower than in November (10.0%) and dropped by 0.5 p.p. below the market consensus. As per the EU methodology, harmonised CPI increased by 9.6% YoY (vs. the market consensus of 10.2%). Germany's import prices MoM were lower than expectations and registered -4.5% MoM (result of lower prices of natural resources and stronger EUR) and 14.5% YoY. A similar tendency as regards CPI was also observed in France, where, contrary to the expected growth, the inflation rate dropped from 6.2% to 5.9% YoY (or from 7.1% to 6.7% for harmonised CPI). In Italy harmonised CPI grew, as expected, by 12.3% YoY.
5. Germany: Trade balance
Flash estimates show that lower prices of natural resources in November and stronger EUR resulted in lower import prices, which dropped by 3.3% vis-à-vis October. While the trade balance improved (+EUR 10.8 bn), exports declined by 0.3% MoM (seasonally adjusted). The nominal growth rates YoY averaged +13.3% and +14.7% for exports and imports respectively, with the real import growth of 0.2%.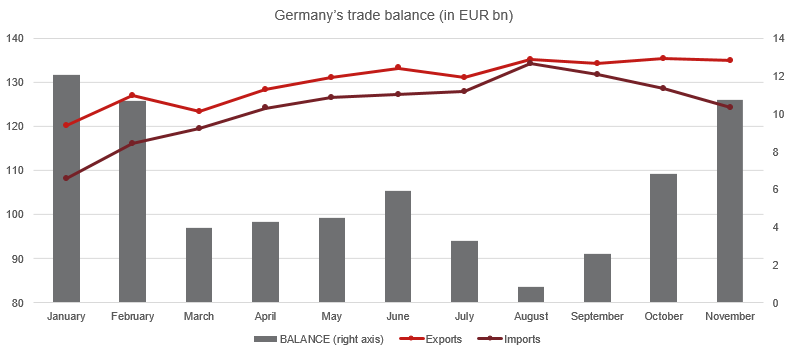 Source: Destatis. Own compilation.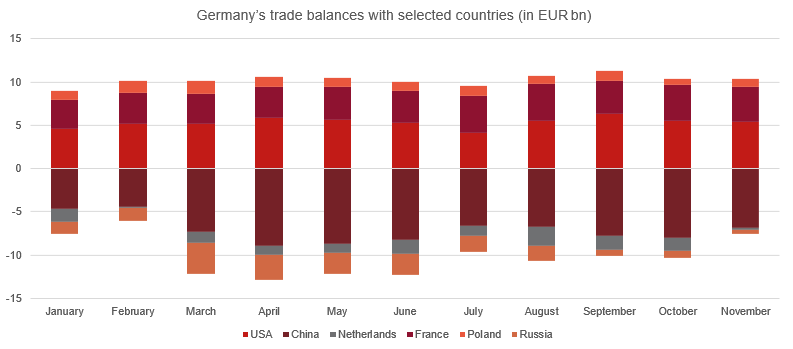 Source: Destatis. Own compilation.
6. PMI
December PMI index readings indicate slightly improved sentiments in manufacturing and services. However, most readings are below 50 points. In the context of lower price pressures, noteworthy is the ISM Prices Paid component of the ISM index, which in consecutive months fell and currently is only slightly higher than the figures recorded in March and April 2020, i.e. during the pandemic. This is probably connected to decreases in prices of some natural resources on global markets and to lower demand caused by the inventory cycle.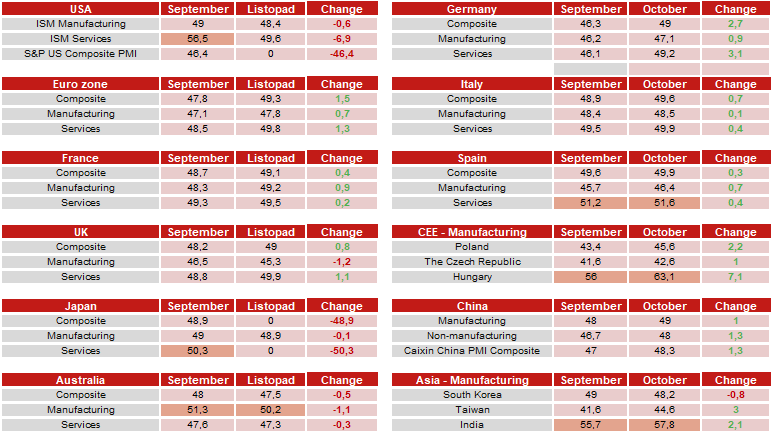 Source: Bloomberg. S&P Global. Own compilation.
7. USA: ISM Services
For the very first time in 30 months, the ISM Services index was below 50%, dropping sharply from 56.5% in November to 49.6% in December. Among its components, most noteworthy are the new orders index (which fell to 45.2%) and the inventories index. The prices index was down to 67.6% as a result of the continued, but decreasing, price pressure in services.
8. USA: Labour market
As per the latest Automatic Data Processing (ADP) National Employment Report, private sector employment increased by 235,000 jobs. This resulted from a decrease in private employment in large companies (500+ employees) and an increase in small and mid-sized companies, with most increases recorded in service industries.
On the other hand, according to the data published by the U.S. Bureau of Labor Statistics, total non-farm payroll employment increased by 223,000 in December, and the unemployment rate dropped to 3.5%. Notable job gains occurred in leisure and hospitality, health care, construction, and social assistance. The number of full-time employees dropped by 342,000, while part-time jobs increased by 465,000. The participation rate averaged 62.3%.

Source: ADP. Own compilation.
Source: ADP. Own compilation.
This week:
Poland: CPI, trade balance
Eurozone: SENTIX, EBC economic bulletin, retail, trade balances, industrial production, CP
USA: Jerome Powell's statement, CPI
China: money supply, CPI, PPI, trade balance
Japan: CPI, money supply