Key information from the past week
1. Poland: Final Inflation Data for November
Statistics Poland published the final data on CPI dynamics. The data in annual terms again surprised the market, as the inflation rate amounted to 7.8% and was 0.1 pp higher than the preliminary reading. Service prices in the period rose by 6.6%, while prices of goods increased by 8.1%. Core inflation amounted to 4.7%. In monthly terms, compared to October, prices increased by 1.0% (goods: 1.2% and services: 0.4%). The categories that contributed most to the increase in prices were transport (+24.1%), use of dwelling or house and energy carriers (+10.7%).
2. Poland: Trade Balance
The current account deficit in October amounted to EUR 1.79b, while expectations were EUR 920m. The trade balance data also came in worse than expected. Poland recorded a trade deficit of EUR 822m, while the market expected a slight surplus (ca. EUR 80m). This was caused by lower than expected exports (EUR 24.98b) and higher than expected imports (EUR 25.8b).
3. USA: Industrial Sector
Producer price inflation amounted to 9.6% y/y in November, higher than expectations of 9.2% and 0.2 pp upward revision of 8.8% recorded in October. In monthly terms, producer prices increased by 0.8%. In November, the m/m growth rate of industrial production reached 0.5% against expectations of 0.6%. Capacity utilization rose from 76.5% in October to 76.8% in November, which was in line with expectations.
4. USA: Retail Sales
Retail sales m/m rose by 0.3%, while the market expected 0.8%. Readings in categories (excluding automobiles and excluding both automobiles and fuel) also fell short of expectations. The control group reported a 0.1% decline in retail sales.
5. FED: Monetary Policy
In light of the development in inflation and continued improvement in the labor market, the Fed decided to keep interest rates unchanged and to reduce the monthly pace of net asset purchases: by $20b for Treasury securities and by $10b for mortgage-backed securities. This means purchases starting in January 2022 at levels of $40b and $20b per month, respectively. The Board estimates that similar reductions in the pace of purchases are likely to be appropriate each month, but is prepared to adjust the pace if warranted by changes in the economic outlook. Next year we will likely see the first of three U.S. interest rate hikes expected in 2022.
6. Eurozone: Final CPI Inflation
Final CPI inflation readings for Spain and Italy, on a harmonized y/y basis, came in slightly better than forecast at 5.5% and 3.9%, respectively. In France, meanwhile, consumer prices rose by 3.4%, which was in line with earlier forecasts. By contrast, CPI growth was lower at 2.8% according to local methodology.
7. Eurozone: Industrial Production
Industrial production in the eurozone as a whole rose by 3.3% y/y, which was above expectations of 3.0%. On a monthly basis, manufacturing growth at 1.1% was 0.1 p.p. worse than expected.
8. Eurozone: ECB Session
According to the European Central Bank, progress in the economic recovery and in achieving the medium-term inflation target will allow for a gradual reduction in the pace of asset purchases in the coming quarters. However, monetary support is still needed for inflation to stabilize at the 2% inflation target over the medium term. Accordingly, the ECB, among other things, left unchanged the interest rate on the main refinancing operations, the end-of-day central bank lending rate and the end-of-day central bank deposit rate at 0.00%, 0.25% and -0.50%, respectively. It was also decided to complete net new purchases under the pandemic emergency purchase programme (PEPP) in March 2022 and reinvest the funds by the end of 2024.
9. China
Y/y retail sales in China rose by 3.9%, which was below expectations of 4.7%. Industrial production growth was a mildly positive surprise, rising y/y at 3.8% (3.7% was expected).
10. Japan
Machine orders growth in October at 2.9% y/y was worse than expectations of 4.2%. Industrial production, on the other hand, rose by 1.8% in October and fell by 4.1% y/y.
This week:
Poland:PPI, industrial production, retail sales, unemployment rate, monetary base
Eurozone:Spain's Q3 GDP
USA:third GDP reading for Q3, PCE
Chart of the week: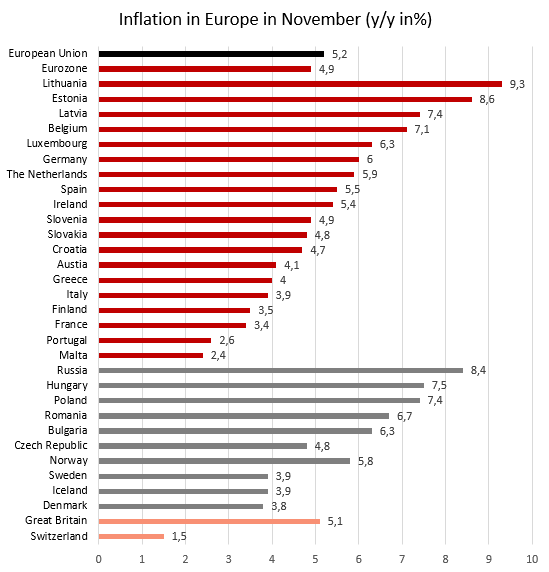 Source: Eurostat. Own elaboration.
Data on CPI dynamics in individual selected European countries show that it is both a phenomenon occurring at elevated levels in virtually every European country, and a phenomenon that varies quite widely across groups of countries (eurozone vs. countries with their own currency), with relatively low and convergent levels persisting in three Scandinavian countries (Sweden, Denmark, Iceland). The median for CEE economies with their own currency in the euro area is 6.7%, higher than the eurozone median of 4.9% (the same as the average). The disparities are greater within the eurozone.
You may read a summary of 2021 below.
https://www.generali-investments.pl/contents/display-article/klient-indywidualny/2021-brief-summary